Did anyone really see that coming?
Contador destroys the TT, yes he destroys it. Sure, he got beaten by good ole boy Fabian, but that's not a big deal. Fabian won't last on the climbs and he won't be able to make enough bank in the TT's to win. It'll be awesome if he gets on the podium, but it won't be in yellow.
Then it happens. The epic break in a flat stage where breaks weren't supposed to succeed. Columbia drills it in the crosswinds and the peloton is in shambles. A break of about 27 riders gets away. And who's in there but Lance...
Yes. Lance. Not Contador. Contador was supposedly hanging out in the back of the field when the break went. I.e. Not the place for a GC hopeful. Now, Lance is ahead of contador in the GC by almost 20 seconds. Sure it's not that much, but it brings a new twist to the Astana leadership debacle.
Lance just proved that he has some tactical know how that Contador seems to be missing. No doubt Contador is still better than Lance in the TT's and on the 'hills' but if the team is working for Lance, then all that goes out the window. Remember Lance playing super domestique to Levi in the Giro? That was a bit embarrasing for Levi, but Lance's form has been coming back.
Now with the TTT tomorrow, Lance and Contador will stay the same in the GC relative to each other, but others might move up and around. Doubtful though, since Astana can hold their own in the TTT. I think they might be my favorite for the win, but CSC will probably give them a good run for the money. You have to admit that having 4 guys in the top 10 after the prologue is pretty good. Astana came in with great form.
Now the question is, who will lead them?
With all that in mind, mad props to Cavendish. His form is disgusting at this point of time. I hope he makes it to Paris in Green. As a wanna-be sprinter, it boggles my mind to see how fast these guys are after a full day of racing. My favorite sprinter is and will always be McEwen, due to his knack for performing well with little or no team support. Cavendish needs a train to get up to speed, but hopefully with time his tactician sense will grow and he'll be able to do more damage on his own.
Something about McEwen's ego also strikes out. Perhaps I like him because I watched a fan made sprint video of his set to the song 'firestarter' by Prodigy again and again and again. I still love that video, too bad the song was taken out due to copy right issues. Bummer.
That's the thing about sprinters though, you HAVE to have a bit of an ego. If you don't think that you're good enough to be the guy to win, you will never have what it takes to be there when the pushing and shoving begins. That's what I've learnt from watching McEwen. He came/comes off as a bit of a jackass, but he is *just* that damn good.
Cavendish's performance (I.e. win) at Milan San-Remo this year has already shown that he has what it takes to be a good classics rider in addition to being 'just' a sprinter. I love the rivalry with Boonen. It makes things interesting.
Columbia's new sponsor HTC has already received their money's worth with the sponsorship. Here's why: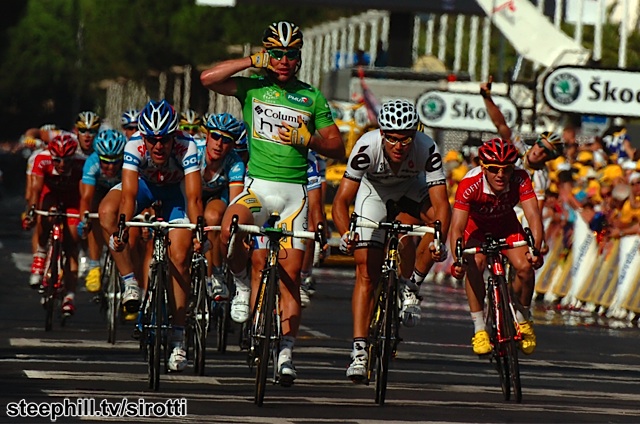 (Hint: HTC makes cell phones)
I can't believe he actually did that. So freaking badass!
Contador Vs. Lance for Astana Leadership.
Thor et al Vs. Cavendish for Green jersey and stage wins.
This is going to be an awesome tour.